3rd April. Public meeting Thursday 4th April 7pm St Peter's Church, Liverpool Grove SE17 about the Walworth Town Hall/Cuming Museum Fire. Updates from Councillor Peter John Leader of Southwark Council and Eleanor Kelly Chief Executive. Audio from the full Council debate about the fire on the SE1 website - http://www.london-se1.co.uk/news/view/6731
Southwark Council latest update - http://www.southwark.gov.uk/news/article/1187/fire_at_walworth_town_hall-updated_26_march
29th March. Following the awful fire at the Town Hall and Cuming Museum, our Walworth Society meeting on Thursday 4th April will now be a public meeting at which people in Walworth can come together to find out more about what has happened and begin to discuss possible ways forward. Councillor Peter John, the Leader of Southwark Council and Eleanor Kelly, the Chief Executive will be at the meeting from 7pm to 8pm to give an update and to take questions from local residents. This is an opportunity for people to find out more about the effects of the fire on Town Hall, Museum, Library and local services so please do pass on information about the meeting to whoever you know who might be interested. Please note that the meeting will now be held in St Peter's Church, Liverpool Grove SE17 (rather than the Hub as previously planned). The meeting will start at 7pm.
28th March - Southwark Council are currently putting the latest news about the fire on the front page of their website (http://www.southwark.gov.uk/). Their 27th March update says that "The scaffolding work that began on Tuesday continues and is expected to take a few days to complete. A separate team will also start to erect hoardings around the site today to make it secure. The Walworth One Stop Shop will be out of action for the foreseeable future. The council is currently considering its options for the restoring access to face to face council services for customers in the Walworth area. In terms of the library, whilst not directly affected by flames it remains closed for the foreseeable future. Twenty two crates of the borough's archives have already been taken out of the basement for drying and storing."
The full update can be seen at:
http://www.southwark.gov.uk/news/article/1187/fire_at_walworth_town_hall-updated_26_march
The Walworth Society has made an offer of any help it can give and we hope to have representative from Southwark at our meeting on 4th April (7pm start) to tell us more about how things stand. We are currently planning to hold the meeting at The Hub 182-184 Walworth Rd SE17 but if there looks like there is enormous interest in this meeting we may try to find a larger venue.
Our recent poster which shows the Old Town Hall in 1905.
You can also see an image from the English Heritage viewfinder website of the Vestry Hall in 1898. 
{jcomments on}Tragic news today about the large fire at the Library and Cumings Museum. Fortunately nobody appears to have been hurt. More information on the history of the buildings (grade II listed) can be found at: http://bit.ly/XBMC1E and http://bit.ly/YteScR
(Tuesday Morning)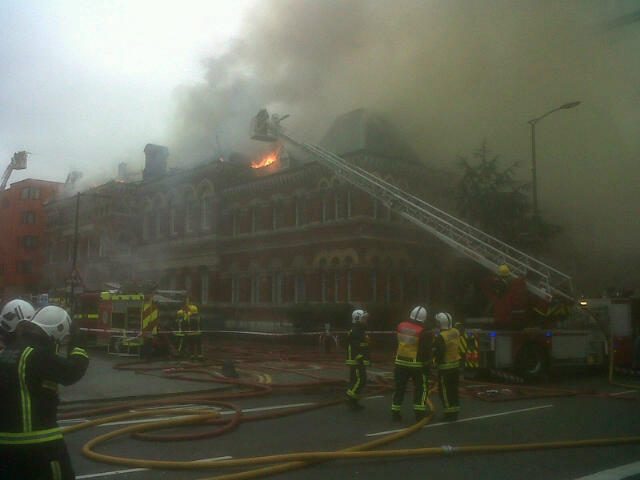 You can leave your thoughts/comments below